Generative AI:

Shaping The

Future Of Logistics For 2024 And Beyond

Less than one-third of the business professionals mention that their organization adopted AI in only few multiple functions.

The logistics and supply chain landscape is currently undergoing a profound technological revolution. Amidst this wave of innovation, one advancement set to redefine the industry in 2024 is the incorporation of generative AI into logistics operations. Generative Artificial Intelligence encompasses algorithms and models capable of generating diverse data types, including video, images, text, 3D renderings, and code, based on trained input data.

Global research indicates a remarkable shift in the generative AI logistics market, poised to surge from its current valuation of $412 million to a staggering $13,948 million by 2032, demonstrating an astonishing CAGR of 43.5%. Notably, North America is anticipated to spearhead this transformation, experiencing substantial growth in the adoption of generative AI within logistics operations. The region currently commands the largest market share, standing at 43%.
Generative AI is poised to revolutionize the logistics industry across multiple dimensions. Whether the aim is to minimize stockouts, optimize delivery routes, identify potential risks, suggest risk mitigation strategies, or enhance resource allocation, generative AI holds the promise of transformative impact. Its advanced capabilities will enable real-time communication enhancements among logistics teams, facilitated by generative AI-powered chatbots and virtual assistants. With the ability to tackle labor-intensive tasks like extensive report generation and forecasting, generative AI is primed to elevate productivity benchmarks for logistics professionals.
According to a recent report, the logistics and supply chain industries are expected to witness substantial growth in the adoption of AI in the years leading up to 2025. A McKinsey report revealed that 55% of business professionals confirmed that their organizations have already integrated AI technology into their operations. However, less than one-third of these professionals mentioned that their organizations had implemented AI across multiple business functions. This finding underscores the significant untapped potential for harnessing value from generative AI, particularly in light of the expanded integration opportunities with existing systems and various other business functions.
Unlock Infinite Possibilities In Your
Supply Chain
With Ai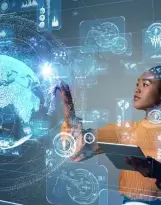 One critical aspect that businesses are giving extra attention to in logistics is their ability to predict and respond to supply chain disruptions. A recent survey reported that 8,197 supply chain disruptions were recorded in the first half of 2023 alone, marking a 3% annual increase. Although the cost of disruptions has decreased, managing delivery delays remains one of the primary challenges for businesses.
The power of Generative AI can be used to forecast disruptions within supply chains. This involves analyzing the reasons behind unfulfilled planned deliveries and predicting the likelihood of delivery exceptions. Logistics experts and analysts concur that this technology holds the promise of introducing an entirely new realm of possibilities, one where human intervention in logistics management could potentially become obsolete.
For example, in cases of route deviations, unexpected weather anomalies, or potential breaches of Service Level Agreements (SLAs), technology like a control tower application, with its 360-degree visibility, can swiftly identify these issues. This enables operational managers and on-ground teams to efficiently address and manage them. In a recent survey, 69% of businesses reported that they lack necessary visibility over their supply chains. With generative AI applications like real-time fleet tracking and control towers, businesses can identify potential delays and take action before they significantly impact their business revenues.
Over the next few years, generative AI is expected to play a pivotal role in the logistics operations of enterprise businesses, reshaping industry practices and ushering in an era of unparalleled efficiency and innovation.